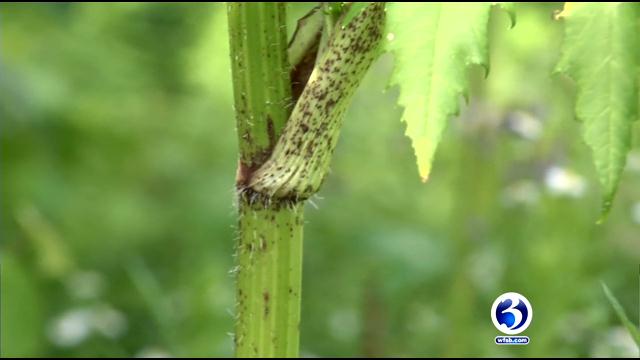 Giant Hogweed can cause skin irritation. (WFSB)
ROCKY HILL, CT (WFSB) -
In the Boston area, this week, environmental experts started warning people to be careful around the dangerous plant known as the Giant Hogweed and now, it turns out it's also in Connecticut.
In fact, there were confirmed cases of the plant in 25 Connecticut cities and towns.
The plant is commonly found in rich soil and can grow to be more than 14 feet tall.
The hogweed is troubling because not only is it an "invasive" plant, but it's a health hazard too.
"The clear sap that can be found in the leaves and stem of the plant can cause blisters and burns and quite a lot of serious skin irritation so it's something you want to be very careful with," said Donna Ellis of the University of Connecticut Department of Plant Science.
If you come in contact with the plant you may not know right away. But after a day or two you'll feel like you have a bad sunburn. Then you will notice blisters and burns.
For more information about the plant such as what to look out for and how to deal with it if it's in your yard, click here.
Copyright 2015 WFSB (Meredith Corporation). All rights reserved.