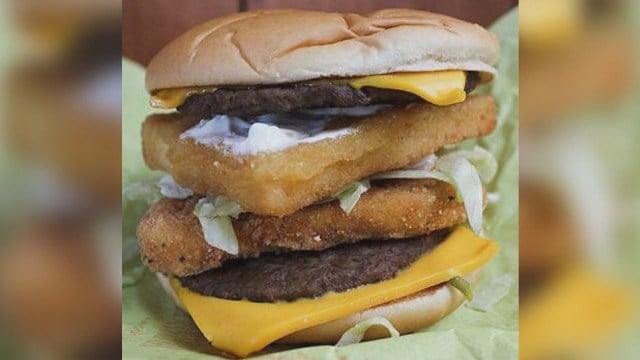 The Land Air and Sea Burger on the McDonald's 'secret menu.' (CBS photo)
HARTFORD, CT (WFSB) -
It's not an urban legend.
McDonald's has a secret menu, according to a manager in Scotland.
The anonymous manager wrote on the website Reddit that customers can add, take out and swap ingredients. They simply need to ask and be willing to pay for it.
He called the orders "grill orders," which he likened to ordering a Big Mac with no pickles.
One example is "The Land Air and Sea Burger."
It's essentially a Big Mac, McChicken and Filet O Fish all piled into one sandwich.
There's also the McGangBang, which follow-up posters referred to as a junior chicken inside of a double cheeseburger.
To check out the Reddit thread, titled "IamA McDonald's manager AMA!," click here.
Copyright 2015 WFSB (Meredith Corporation). All rights reserved.