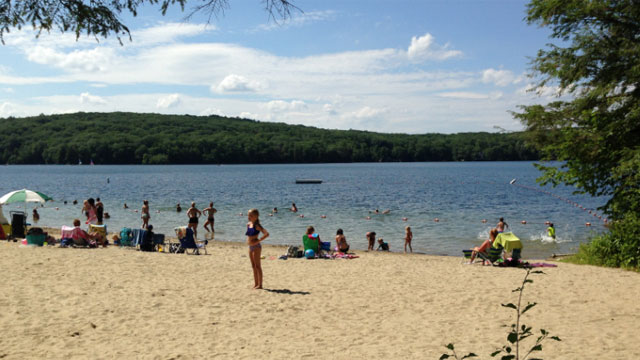 A child was pulled from West Hill Lake in New Hartford on Tuesday. (WFSB)
NEW HARTFORD,CT (WFSB) -
A 4-year-old boy is expected to be OK after town officials said he was pulled from water at West Hill Lake in New Hartford on Tuesday afternoon.
A child from a summer camp became submerged at Brodie Beach and had to be pulled out of the water by lifeguards around 1:15 p.m., according to town officials. It is unclear why the child became submerged.
Once on the beach, Lifeguards did not need to perform CPR on the child.
Emergency personnel were on scene within minutes, according to town officials.
The boy coughed up water, but, as a precaution, the boy was taken to hospital. Camp staff accompanied the child to the hospital.
The campers on the beach were removed from the scene and taken back to the summer camp, which is run by the town's recreation department.
A letter about the incident was sent to parents.
Copyright 2015 WFSB (Meredith Corporation). All rights reserved.