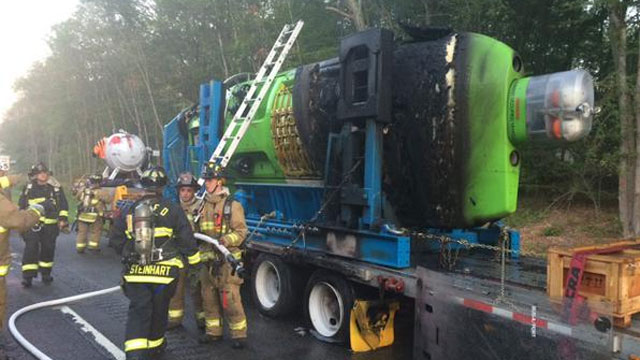 Police said the Deepsea Challenger was damaged in a fire on I-95 in North Stonington. (CT State Police)
NORTH STONINGTON, CT (WFSB) -
A personal research submarine was damaged during a fire on Interstate 95 in North Stonington on Thursday morning.
Police said that the Deepsea Challenger, which was used in James Cameron's DeepSea Challenge 3D Project, was damaged in a truck fire on the southbound side of I-95 near exit 93 around 5 a.m.
A fire spread from the truck carrying the vessel to the Deepsea Challenger, police said. It is unclear how much damage the Deepsea Challenger sustained during the fire.
There were no reported injuries.
The cause of the fire is under investigation.
North Stonington Fire Dept. and Connecticut State Police were both called to the scene of the fire. Firefighters were able to knock down the fire quickly and turned the investigation over to state police.
The Deepsea Challenger was headed to Woods Hole Oceanographic Institution in Massachusetts from Baltimore, Maryland.
For more information on the Deepsea Challenger, click here.
Copyright 2015 WFSB (Meredith Corporation). All rights reserved.