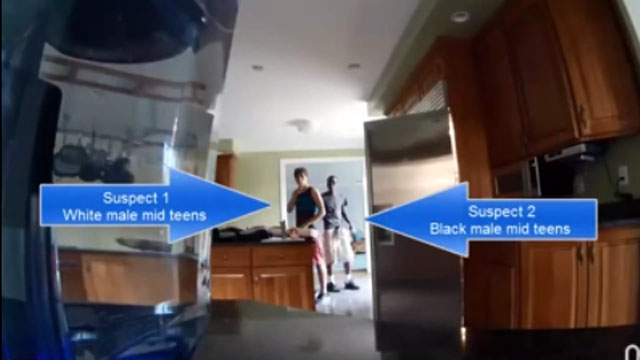 Police released this video of the teens suspected of a home burglary. (Stamford Police Department)
STAMFORD, CT (WFSB) -
Two teens are suspected of a burglary in Stamford and the whole incident was caught on tape.
Video shows the teens opening a door on South Lake Drive. One sat down at the kitchen counter while the other ate out of pizza box. Both can be seen giggling during the incident.
"I think it's crazy. It's absurd that they just walked in," neighbor Spencer Decker said.
The two meander through the home as if it's their own. Police say both suspects are just kids in their mid-teens.
The video comes as a shock to neighbors on South Lake Drive.
"[It's] completely unsettling. Especially if you're sleeping at night and someone just walks in," Decker said.
Stamford police put this video on their Facebook page, trying to appeal to the city's youth in hopes of identifying these two.
It's still unclear exactly what these two made off with, but if you know anything, you're urged to call Stamford Police Department at 203-977-4444.
Copyright 2015 WFSB (Meredith Corporation). All rights reserved.