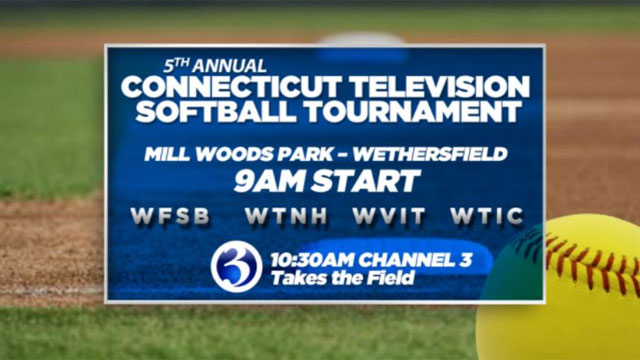 WETHERSFIELD, CT (WFSB) -
WFSB Channel 3 will be competing the in the fifth annual Connecticut TV Softball Tournament on Saturday.
The team will be playing against personalities and staff from WVIT, FoxCT and WTNH.
The games will be played at Mill Woods Park in Wethersfield. The first game will be played by WVIT and WTNH at 9 a.m. The game played by WFSB and FoxCT will be played at 10:30 a.m.
Eyewitness News meteorologist Scot Haney, morning anchor Eric Parker, traffic reporter Nicole Nalepa, weekend morning anchor Kim Lucey, Vice President/General Manager Klarn DePalma as well as reporters Matt McFarland, Courtney Zieller, Jill Konopka, Kevin Hogan and Erin Connolly will all be at the game Saturday.
The championship game will be played at noon.
Members of the Channel 3 Kids Camp will be on hand selling refreshments. All of the proceeds from those sales will benefit the Channel 3 Kids Camp.
Copyright 2015 WFSB (Meredith Corporation). All rights reserved.