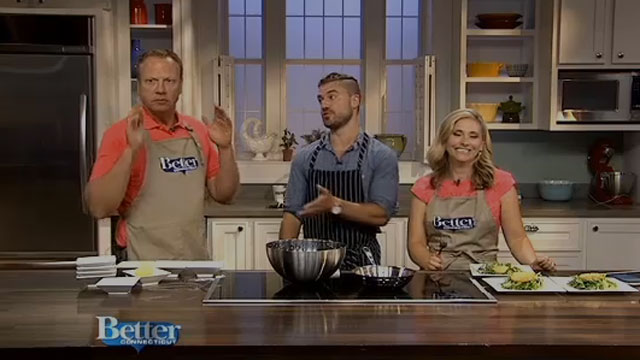 Check out Scot's reaction after he finds out Chef Ryan Durant is not married. (WFSB)
ROCKY HILL, CT (WFSB) -
WFSB's own Scot Haney has made BuzzFeed again!
Chef Ryan Durant at Assaggio in Branford stopped by Better Connecticut to make a summertime dish, crab cakes.
While trying Durant's dish, Haney, WFSB Meteorologist/Better Connecticut co-anchor, asked Durant if he was married.
After Durant said no, Haney dropped his fork in amazement and walked off set. Durant quickly recovered and said he had "a beautiful girlfriend" at home.
Better Connecticut co-anchor Kara Sundlun told the audience to visit Durant at Assaggio in Branford
"I'm in my car already," Haney said.
The interaction between Haney and Durant was noted in a BuzzFeed article.
Haney appeared on BuzzFeed after he ate cat vomit on live television. The video ended up going viral.
To watch the full video of Durant's visit, click here.
Copyright 2015 WFSB (Meredith Corporation). All rights reserved.