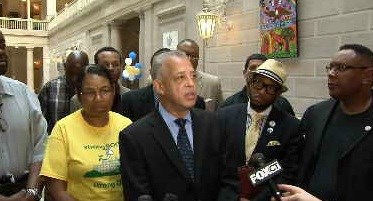 (WFSB file photo)
HARTFORD, CT (WFSB) -
On Wednesday evening Hartford Mayor Pedro Segarra announced his slate of six city council candidates for the upcoming election.
Segarra made the announcement on the steps of Hartford City Hall, just a few days after he did not get endorsed by the city's Democratic Town Committee.
The city councilors on the mayor's slate were not endorsed either.
"Today the message I am sending is the same message that I sent at the convention - the city of Hartford belongs to the people of Hartford," Segarra said. "Elections of the city of Hartford will be decided by the city of Hartford and not by a chosen view."
Two of the candidates are currently city councilors.
This all comes after a lot of drama Monday night at the Democratic Convention.
After realizing challenger Luke Bronin was going to get the endorsement, Segarra walked out of the convention.
Segarra and his slate of councilors will have to collect about 1,700 signatures to get on the September primary ballot.
Copyright 2015 WFSB (Meredith Corporation). All rights reserved.