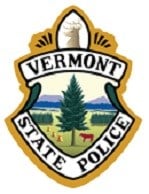 KILLINGTON, VT (WFSB) -
A Connecticut man was tragically killed in a freak accident in Vermont involving a bull.
According to Vermont State Police 62-year-old Jon Bellis of Woodbridge was driving along Route 4 in Killington, VT around 10:30 p.m. Friday when his vehicle struck a large Scottish Highlander Bull that had escaped from a nearby pasture.
The crash sent the vehicle down a small hill where it then struck a tree.
Bellis was pronounced dead at the scene. His passenger, 60-year-old Kathryn Barry, also of Woodbridge, was taken to Rutland Regional Medical Center with minor injuries.
Police said the crash severally damaged the front quadrant, hood and roof of the vehicle.
Copyright 2015 WFSB (Meredith Corporation). All rights reserved.