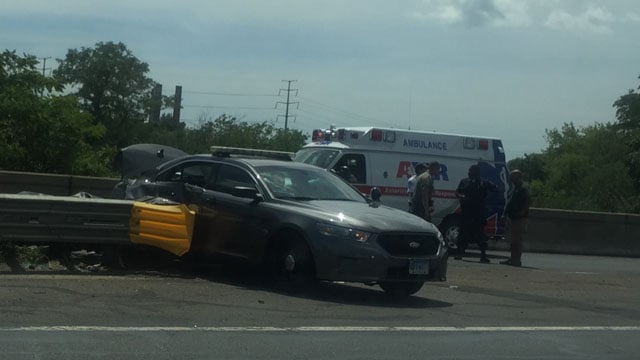 (WFSB photo)
NORTH HAVEN, CT (WFSB) -
A sergeant with the Department of Motor Vehicles narrowly escaped an out-of-control vehicle that came barreling toward his car.
It happened as he was doing paperwork along Interstate-91 north near exit 5 in North Haven.
Officials said the sergeant heard screeching tires and saw a car coming towards him. He was able to jump out of his own vehicle and run toward the front of it. He managed to get far enough away when it was struck.
The sergeant was not hurt, but the cruiser was seriously damaged.
There's no word on what caused the driver to lose control or whether any charges will be filed.
Copyright 2015 WFSB (Meredith Corporation). All rights reserved.