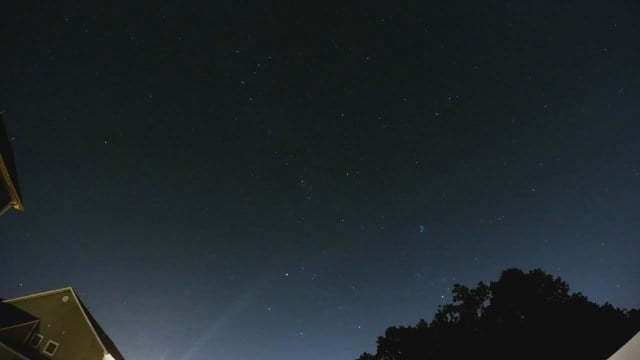 Eyewitness News photographer Kevin Galliford recorded a time lapse of the meteor shower. (Galliford photo)
PLAINVILLE, CT (WFSB) -
Connecticut residents received the chance to wish upon a star overnight.
Astronomers said the Perseid meteor shower, the oldest known to earth, peaked around 3 a.m. on Thursday.
Luckily for viewers, there was no moon to eclipse the star power.
NASA said the last time the Perseid peaked with no moonlight was in 2007.
Eyewitness News photographer Kevin Galliford recorded a time lapse from 11:45 p.m. Wednesday night until sunrise Thursday morning. Aside from a plane streaking across the sky, a number of shooting stars can be seen.
His video was shot in Plainville.
For more on the meteor shower, check out NASA's website here.
Copyright 2015 WFSB (Meredith Corporation). All rights reserved.