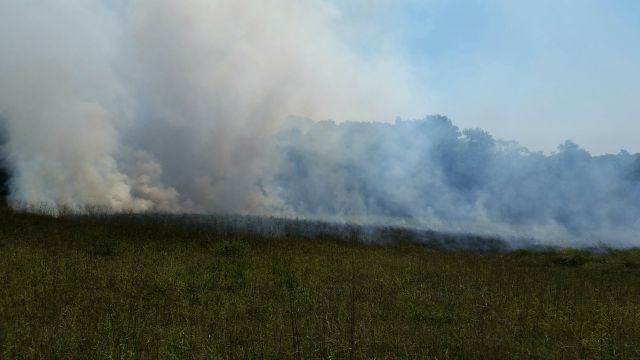 The fire marshal is trying to determine cause of brush fire in Hamden on Friday. (Hamden Fire Department)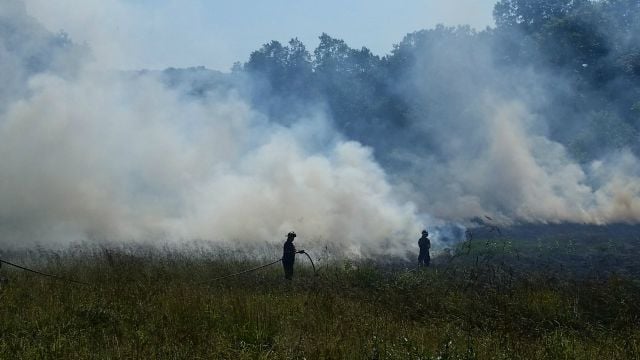 Firefighters battle brush fire at in West Rock Ridge State Park in Hamden. (Hamden Fire Department)
HAMDEN, CT (WFSB) -
A brush fire damaged multiple acres of land at a state park in Hamden on Friday morning.
After receiving several 911 calls of "heavy smoke," firefighters were called to the woods at West Rock Ridge State Park in the area of Hill Street and Dunbar Hill Road around 10 a.m.
Department of Energy and Environmental Protection rangers worked alongside six career and four volunteer firefighters to knock the fire on between five to seven acres of land on the western side of the Farm Brook Reservoir.
Authorities said they used brush truck pumpers to extinguish the fire. It was knocked down by just after 11 a.m.
Fire marshals from Hamden were called to investigate the cause and origin of the fire.
Authorities said this area in Hamden is often traveled on by day hikers. Anyone with any information about the fire is asked to call the marshal at 203-407-3182.
Copyright 2015 WFSB (Meredith Corporation). All rights reserved.