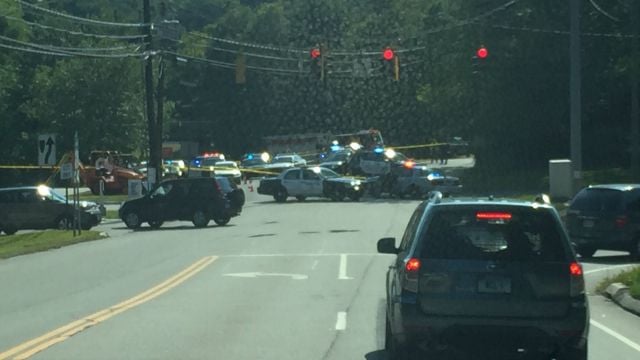 Gregg Jones-Henry sent in this photo of the scene in Bolton
BOLTON, CT (WFSB) -
A suspect is recovering after being shot by police in Bolton on Friday afternoon.
Officials told Eyewitness News the incident started with a bank robbery in South Windsor. However, it is unclear, which bank was robbed.
Officers chased the suspect into Manchester and then his car crashed on Interstate 384 in Bolton around 3:45 p.m. Suspect got the car moving again and drove a few more yards where the car then became disabled.
The suspect then got out of the car and police said it appeared he was reaching for a weapon.
Officers tried to Tase the man, but police said he ripped the Taser probes off of him. A state police trooper and a Manchester police officer fired their weapons.
The suspect, whose name was not released, was taken to Hartford Hospital by the Ambulance Service of Manchester. His condition is unknown.
Route 44 is closed between Vernon Road and the Bolton Notch because of the police investigation.
Incident will be under investigation by state police as well as the Hartford and New London County inspector.
Copyright 2015 WFSB (Meredith Corporation). All rights reserved.