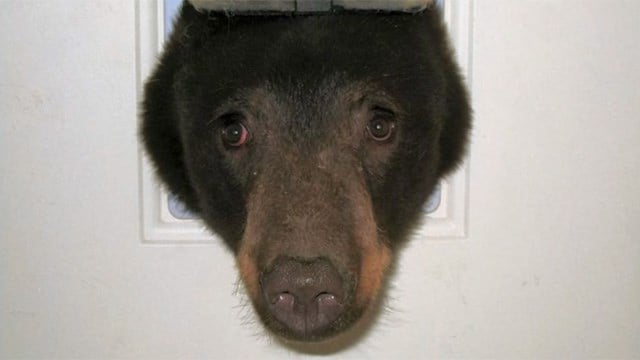 (CBS photo)
SCHWEITZER MOUNTAIN, ID (CBS) -
A man who lives near Schweitzer Mountain said a bear stuck its head through a cat door at his condo Thursday night.
Doug Harder said this is not his first run in with a bear. He said a bear and two cubs climbed up the side of his condo onto his second floor deck at the end of May to eat birdseed.
Harder said he got another surprise visit when he went on vacation earlier this month. He got back Aug. 5 to find a bear yearling had broken into his condo. He said he left the sliding glass door cracked open to his second-story deck while he was gone. It was open eight inches and he blocked the door jam with a piece of wood.
Harder said the bears got in, ate food and defecated on his carpet. He said the bears did very little damage. He said he closed the door but the bear came back Thursday morning and Thursday night, and that's when he snapped the pictures of it poking its head through the cat door.
© 2015 CBS Interactive Inc. All Rights Reserved.