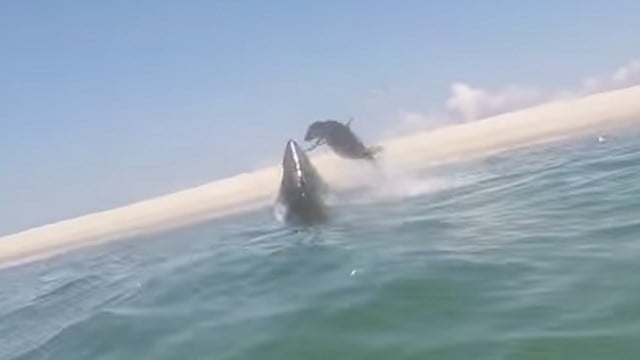 (Atlantic White Shark Conservancy photo)
MONOMOY, MA (WFSB) -
As the shark sightings continue to increase along Cape Cod, MA, so are the recordings.
Dr. Greg Skomal of the Massachusetts Division of Marine Fisheries captured one taking a shot at a seal on Monday.
Skomal, who was also working with the Atlantic White Shark Conservancy, said he took the footage near Monomoy.
It shows a shark breaching the water to snag the seal. However, the crafty seal managed the avoid the shark's jaws in mid-air.
See the video here.
White shark sightings have become common place along the Cape Cod coastline.
Last week, officials closed Nauset Light and Coast Guard beaches after a shark chomped on and spit out a seal.
A family from Burlington, CT said they snapped a few photos of one up in Provincetown last week.
Researchers said there have been more than a dozen great white shark sightings this month alone. They said the animals are simply following one of their main food sources, seals.
Copyright 2015 WFSB (Meredith Corporation). All rights reserved.