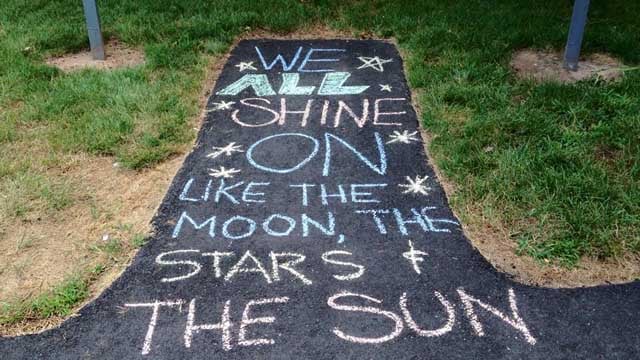 Shannon Marie from Meriden crafted this on her sidewalk.
HARTFORD, CT (WFSB) -
It may be a national event, but in Hartford on Tuesday, children chalked the walks in honor of an 11-year-old girl at the Connecticut Children's Medical Center.
Children across the state celebrated Alaina's birthday by helping her create "Chalk the Walks" inspirational messages for her friends and patients inside the hospital.
More than 5,000 pieces were donated through a Facebook video she created.
According to the national event's website, participates were encouraged to take 10 minutes outside to write an uplifting message on their sidewalk, driveway or parking lot.
They were then encouraged to Tweet or post it to Facebook using the hashtag #chalkthewalks.
The hope was by the end of the day, there would be a collection of images from across the country to help spread joy and optimism.
Last year, the site said more than 4,200 people joined in from every state and at least 10 countries.
More information can be found on the event's website here or Facebook page here.
Copyright 2015 WFSB (Meredith Corporation). All rights reserved.