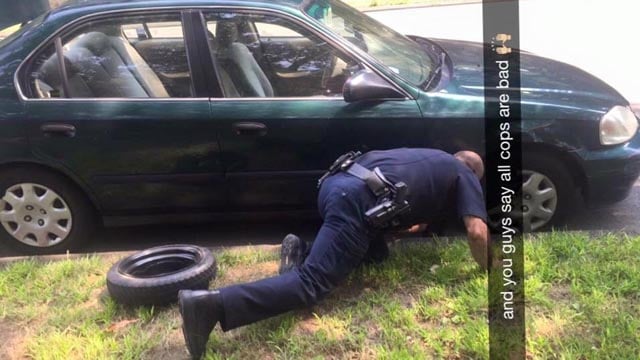 Sgt. Paul Scarcella changes a flat tire. (Hamden police Facebook photo)
HAMDEN, CT (WFSB) -
A Good Samaritan and police officer from Hamden is one woman's hero for helping her with a flat tire.
Karina Rodriguez Hernandez said she was became stuck on Tuesday while leaving for work.
She said she called everyone she knew for help, but no one came to her rescue.
Luckily, she said Sgt. Paul Scarcella drove by and offered some much appreciated help.
After Hernandez told him about the flat, Scarcella proceeded to pop the truck, retrieve the spare tire and replace the flat. Hernandez said she didn't ask him to do it, he just did it.
"To this Officer, thank you so so much!" she wrote on the Hamden Police Department Facebook page. "I appreciate it more [than] the world! You were my hero today and I am so grateful to you! NOT ALL COPS ARE BAD!"
Hamden police gave Scarcella a shout out on their Facebook page and thanked Hernandez for her post.
Copyright 2015 WFSB (Meredith Corporation). All rights reserved.