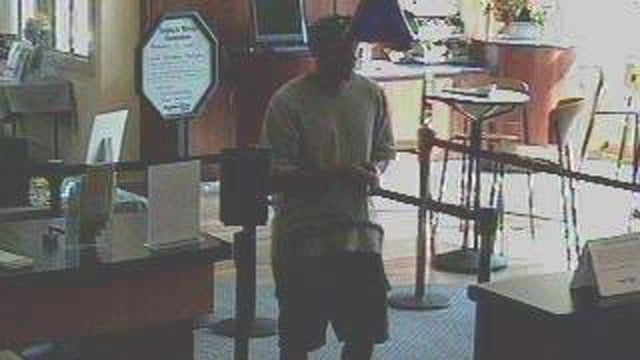 (Milford police photo)
MILFORD, CT (WFSB) -
A bank robbery in Milford has police seeking the public's help to locate the suspect.
Police said it happened around 4:15 p.m. on Tuesday on the Boston Post Road in Milford.
A man approached a teller and handed over a note stating he had a weapon and wanted money from the drawer. Police said no weapon was actually shown.
After taking the money, he fled on foot towards Woodruff Road. No one saw any sort of vehicle.
The suspect was described as a thin man who wore an oversized gray t-shirt, cargo shorts, a blue baseball hat with sunglasses on top, dark sneakers and white socks.
Anyone with information was asked to contact the Milford Police Department at (203) 783-4729 or visit www.milfordpd.org and click on "crime tips."
Copyright 2015 WFSB (Meredith Corporation). All rights reserved.