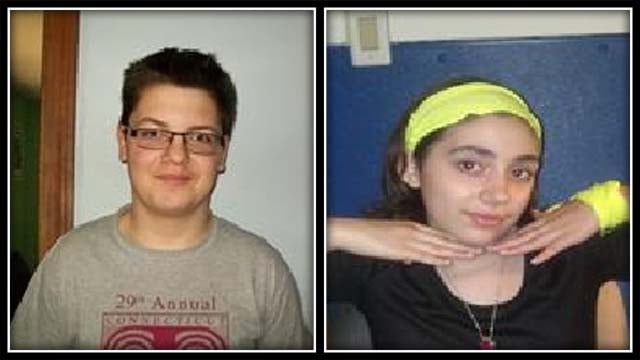 Hunter Guerin and Camryn Dwyer (State Police)
STORRS, CT (WFSB) -
Two missing teens were found on Friday after they were involved in a hit and run at the University of Connecticut.
Coventry police said a missing person alert was issued at about 3:30 a.m. on Friday for Hunter Guerin and Camryn Dwyer, who are both 15.
UConn officials said the university police were notified of the hit and run shortly after 11 a.m. at Spring Manor Farm, which is located off of Route 32.
Officials said the teens are not affiliated with UConn. Police said the teens are residents of two separate group homes in Coventry.
They were both transported to Hartford Hospital, with one of the teen's injuries appearing to be more serious than the others.
Police did not have a description of the vehicle that fled.
Hospital officials said Guerin is in good condition and Dwyer was treated and released.
Copyright 2015 WFSB (Meredith Corporation). All rights reserved.