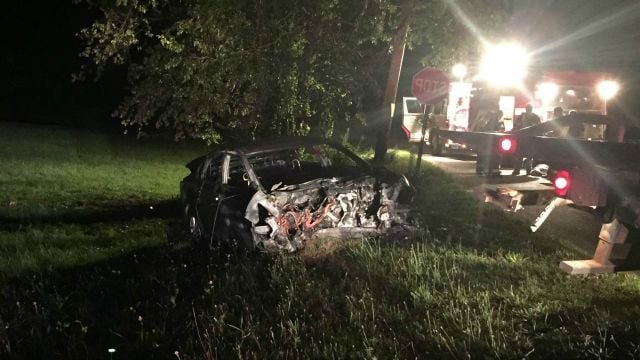 A 19-year-old was seriously injured after a car crash and fire in Woodbridge. (Woodbridge Police Department)
WOODBRIDGE, CT (WFSB) -
A 19-year-old man is recovering after being involved in a motor vehicle crash in Woodbridge on Sunday morning.
The crash was reported in the area of Baldwin and Greenway roads just before 4 a.m. When officers arrived, police said they found a 2014 Nissan Altima on fire with "an unresponsive operator in the driver's seat."
Officers with the help of a Woodbridge resident were able to wake up the driver, who was identified as Orange resident Justin Proto.
They were able to get Proto out of the Altima and bring him to a nearby field, police said.
Proto was rushed to Yale-New Haven Hospital with "serious injuries." His conditions was not released by police.
The fire was quickly knocked by the Woodbridge Fire Department.
During their investigation, police determined that Proto drove his Altima off Baldwin Road and crashed into a tree.
The cause of the crash remains under investigation.
Copyright 2015 WFSB (Meredith Corporation). All rights reserved.