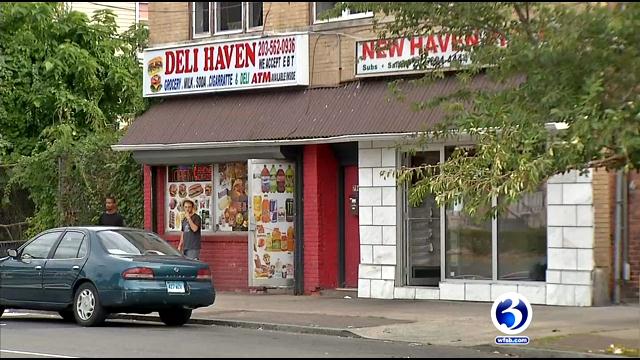 Pizza restaurant employee was stabbed after a robbery at the Deli Haven Market. (WFSB)
NEW HAVEN, CT (WFSB) -
A pizza restaurant employee was stabbed after a nearby robbery in New Haven on Saturday night.
Officers were called to a report of robbery and assault at 796 George St. just before 10 p.m.
Police determined that two men including one with a knife entered the Deli Haven Market. When the clerk opened the cash register, police said he was "bum-rushed." Police said the suspect grabbed money, pushed down the clerk and fled the scene.
An employee of the New Haven Pizza restaurant told police he "heard the commotion" and "confronted the fleeing men." The male employee was stabbed in the arm by one of the suspects. The employee, whose name was not released, was taken to a nearby hospital with "non-life-threatening" injury.
The alleged stabbing suspect, who is a man in his 30s, was able to get away from police. The knife was recovered at the scene.
However, officers were able to arrest the second man, who is a 17-year-old from New Haven. His name is not being released because of his age.
The teen lead police on a short foot pursuit before he was caught in rear of the Barnard School after he threw money into the air.
The incident remains under investigation by police. Anyone with any information is asked to call the New Haven Police Department at 203-946-6316 or the tipline at 1-866-888-TIPS(8477). People can also Text "NHPD plus their message to 274637.
Copyright 2015 WFSB (Meredith Corporation). All rights reserved.