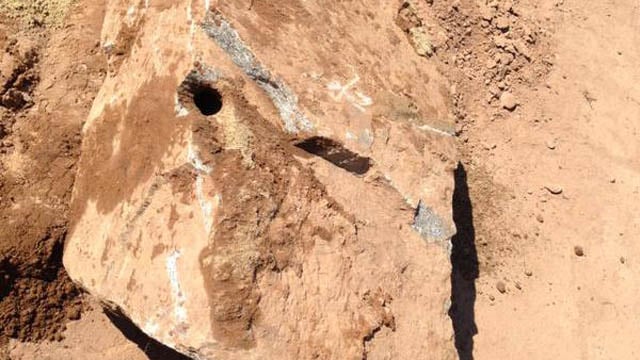 Police said wires protruded from the holes in this rock and led them to believe it was an old blasting cap. (Vernon police photo)
VERNON, CT (WFSB) -
An object thought to be a blasting cap buried underneath a road in Vernon led to evacuations.
Police said it was found on South Street near Knollwood Drive. However, officials determined that it was not a blasting cap.
A construction crew digging on the street unearthed the unknown object.
Officials closed South Street and evacuated six nearby homes, many of which didn't need to be because the residents were at work.
Police and fire officials have established a perimeter around the area as a safety precaution.
They said the Hartford Bomb Squad helped determine that the object wasn't dangerous.
The scene was in the process of clearing just before 12:30 p.m.
Copyright 2015 WFSB (Meredith Corporation). All rights reserved.