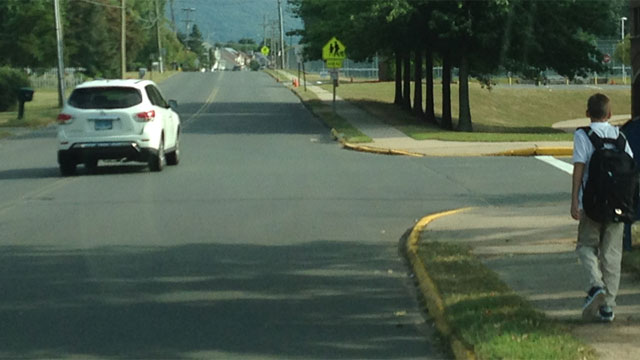 Police patrols were increased near Southington High School after a bear sighting on Friday. (WFSB)
SOUTHINGTON, CT (WFSB) -
A bear sighting has prompted police patrols near Southington High School.
Police said a bear was sighted in the 900 block of Pleasant Street on Friday.
Southington Superintendent Timothy F. Connellan sent out a warning to parents that high school students, who are walkers, were advised to remain in the school until police determined it is safe or parents could pick them up.
Connellan also said they remained on patrol until all school buses have complete their routes.
"I kinda feel sorry for the animals," neighbor Beecher Lajoie said.
But, Lajoie said he's pretty worried about the bear that was discovered on Friday afternoon.
"I'm very concerned," Lajoie said. "The animals are really put into a squish because of all of the home building that's been going on."
For Lajoie, he said he won't let a bear ruin his day.
"If they want to come over and eat my berries that's fine by me," Lajoie said.
No injuries were reported to police.
Copyright 2015 WFSB (Meredith Corporation). All rights reserved.