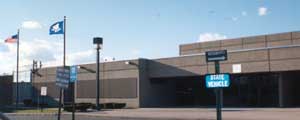 HARTFORD, CT (WFSB) -
A man being held at the Hartford Correctional Center is now facing new charges after he attempted to escape Saturday.
According to the Department of Corrections, 25-year-old Raul Santana of Hartford was found hiding in the back of a facility truck parked on the grounds.
Officials said Santana gained access to the roof of the facility from an outside recreation yard Saturday afternoon. From there he accessed the truck on the property in an attempt to stow away in it.
Staff immediately implemented emergency protocols and Santana was quickly apprehended.
Officials said at no time did Santana breach the secured perimeter fence of the facility and there were no injuries as a result of the incident.
Santana has been transferred to the North Correctional Institute in Somers and charged with attempted escape.
Santana was in custody of the Hartford Correctional Center since September 1 on a $15,000 bond for criminal trespass.
The Hartford Correctional Center remains under lockdown at this time.
Copyright 2015 WFSB (Meredith Corporation). All rights reserved.