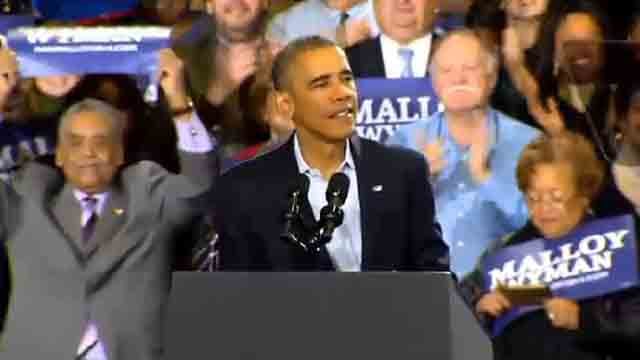 President Obama speaking in Bridgeport (WFSB file photo)
HARTFORD, CT (WFSB) -
On Monday, President Barack Obama announced he is signing an executive order that requires paid sick leave for employees of federal contractors.
The White House says it will benefit 300,000 workers who don't currently get paid leave.
Connecticut's Congresswoman Rosa DeLauro hailed the executive order and said in a press release that the United States is the only "developed country that does not require employers to offer paid sick days."
DeLauro wrote the Healthy Families Act, which allows workers to earn paid sick leave when they are sick, are caring for a sick family member, or to obtain preventative care, and to address the impacts of domestic violence, stalking or sexual assault.
"Not only is it in the best interest of the employee to take care of themselves or their family member, it benefits their colleagues and employers," DeLauro said in a press release.
She added that there are millions of Americans who still have to choose between a paycheck and their well-being.
Obama traveled to Boston on Monday to address a union rally and made the announcement.
Eyewitness News will have more information starting at 5 p.m.
Copyright 2015 WFSB (Meredith Corporation). All rights reserved.