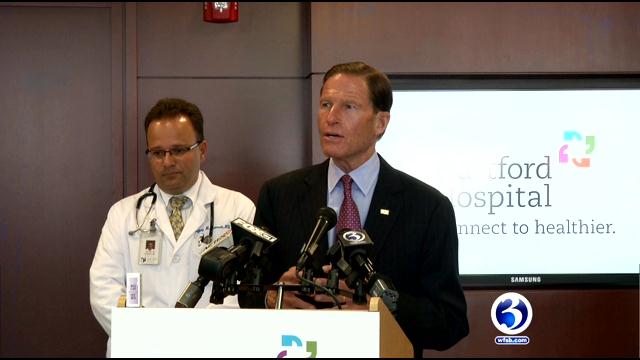 Blumenthal addresses drug shortage in country. (WFSB)
HARTFORD, CT (WFSB) -
There's a new push to address a medical drug shortage happening across the country and in Connecticut.
U.S. Sen. Richard Blumenthal is calling on the Food and Drug Administration to announce when drugs are in short supply and to take more action to make sure these medicines are available.
The shortage affects many drugs and makes it difficult for patients and their families to make decisions about treatment.
Ray Halsted is a bladder cancer survivor who needed BCG, Caillus Calmette-Guerin.
By taking the drug, Halsted said he avoided having his bladder removed, which would have been an invasive procedure.
"After receiving 12 treatments over two six week terms, the BCG has done its job and I'm smiling about that," Halsted said.
There are 240 people in Connecticut will be candidates for BCG this year alone.
Copyright 2015 WFSB (Meredith Corporation). All rights reserved.