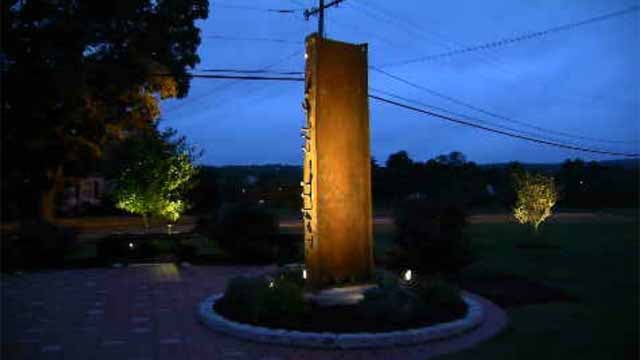 Middletown South Fire District has a piece of the World Trade Center at its headquarters (WFSB)
WOLCOTT, CT (WFSB) -
As a way to remember those who died in the tragic attacks on Sept. 11, 2001, several communities around the state will have memorial ceremonies on Friday.
Middletown South Fire District will have a memorial service at the headquarters on Randolph Road at 8:30 a.m.
Durham will have a remembrance ceremony on the town green at 6 p.m.
Norwalk will have a ceremony at City Hall at 8:30 a.m.
Wolcott will honor emergency responders during halftime of the first varsity football game at the high school. The game starts at 6:30 p.m.
Stamford will host an unveiling of 14 World Trade Center 'Survivor Tree' offspring trees at 11:30 a.m. The trees are being trained and planted over a 16-foot long archway at Bartlett Aboretum and Gardens.
Bridgeport will have a ceremony at the fire department on Congress Street at 9:45 p.m.
Norwich will have a memorial and commemoration at Chelsea Parade at 3:30 p.m. to 4:30 p.m.
Plantsville will have a service at 8:46 a.m. at the 9/11 memorial on the corner of Summer and Main streets.
Copyright 2015 WFSB (Meredith Corporation). All rights reserved.