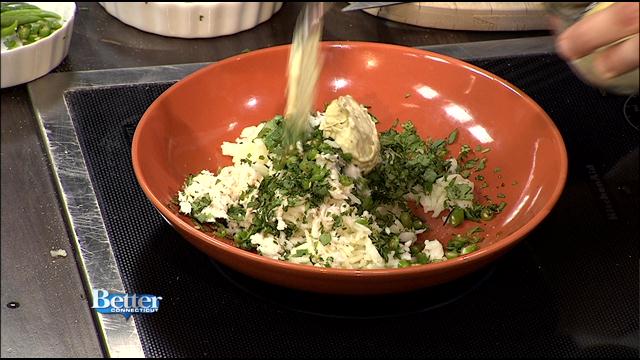 ROCKY HILL, CT (WFSB) -
It's new restaurant Tuesday and this week Better Connecticut welcomed The Good Elephant.
The Good Elephant has opened to rave reviews form the New York Times and is based right in Chester.
To make a reservation or check out The Good Elephant, go to their website.
Rice Cake Recipe: (Serves 6-8)

2 cups jasmine rice
1/2 large onion (small dice)
2 cloves of garlic (chopped)
3 1/2 cups of water
Canola oil (enough to coat the pan)
1/2 cup of sesame aioli
1/2 cup of peeky toe crab
1 bunch cilantro (chopped)
2 Thai chillies (chopped)
Salt and pepper
Method:
Add canola oil into small pot and heat up.
Once hot add onion and garlic in pot. Stir so they don't brown or burn.
Once onions are soft add jasmine rice and water.
Stir until incorporated.
Let rice cook on high heat for 5 to 10 minutes.
Once water is soaked up by rice cover and let cool for 10 minutes.
In the mean time prepare your crab, cilantro, and chillies.
Once rice is cooled, put into mixing bowl.
Add sesame aioli, crab, cilantro, chillies and salt and pepper.
Mix together until mixture is nice and you can form a ball with the rice.
Grab a saute pan and add canola oil (enough to cover pan).
Once saute pan is nice and hot, mold your rice cake using either a ring mold or just using your hands.
Place in saute pan until you notice a nice golden color on the rice cake for 3 to 4 minutes.
Flip over and do this step again.
Once golden on both sides let rest in pan for 1 to 2 minutes.
Plate and serve with a little dollop of sesame aioli on top.
Copyright 2015 WFSB (Meredith Corporation). All rights reserved.