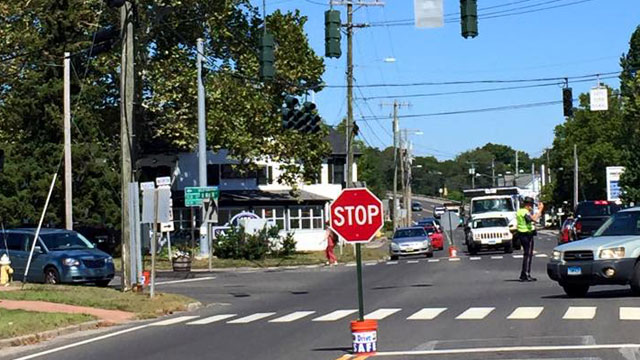 Police are installing stop signs in affected areas. (Old Saybrook Police Department)
OLD SAYBROOK, CT (WFSB) -
Two separate power outages are causing traffic delays are major intersections throughout Old Saybrook on Tuesday afternoon.
One of outages was caused by a snake. Firefighters said a snake got into a transformer on an utility pole on Middlesex Turnpike near Connolly Drive.
The northern end of Old Saybrook lost power after this incident. However, power has since been restored to that section of town and crews fixed the issue.
Another issue occurred on Great Hammock Road when a line came down in the downtown area near Cornfield Point. Crews were working to fix the downed wire.
A construction crew also hit an underground power wire on Candlewood Hill Road in Haddam just off Route 9. The issue is causing outages in that area. Utility crews are working to fix the issue, but it is unclear how long it will be before repairs are made. There are more than 500 Eversource customers without power.
At 1:45 p.m., there were more than 2,500 Eversource customers or 37 percent of the town without power. By 2:30 p.m. there were more than 1,400 customers without power. To see the outage status, click here.
The outages have created traffic issues and crews from emergency management was setting up stop signs in affected areas. Police said the signs "deployed in a effort to keep people safe and vehicle traffic flowing."
Copyright 2015 WFSB (Meredith Corporation). All rights reserved.