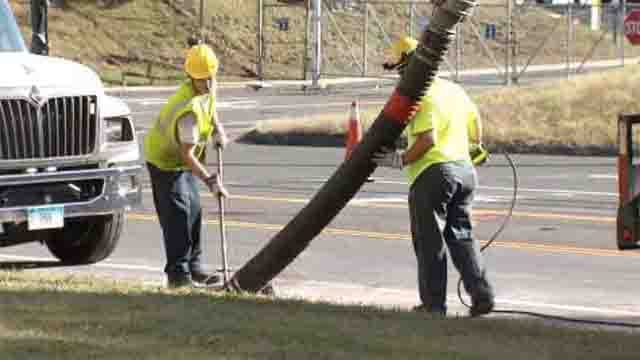 Crews respond to fuel leak at Bradley Airport (WFSB)
WINDSOR LOCKS, CT (WFSB) -
The state's Department of Energy and Environmental Protection responded to Bradley International Airport after there was a release of jet fuel from a pipeline on Thursday.
The pipeline is a section about half of a mile long and runs from a bulk storage fuel terminal to a loading rack within the airport.
Officials said the release first surfaced at a valve pit which is about halfway down the pipeline on Schoephoester Rd near the parking garage.
An estimated volume about 2,500 gallons of fuel filled a valve pit, which overflowed causing the fuel to travel down the street about 1/8 of a mile.
The cause of the release is still unknown, officials said.
"Aircraft Services International Group, the company that leases the pipeline, hired an environmental contractor to recover fuel that was released and clean the surrounding area under supervision of DEEP Emergency Response," a press release said.
Officials said crews will clean the street while simultaneously pumping the liquid fuel from the pit.
Copyright 2015 WFSB (Meredith Corporation). All rights reserved.