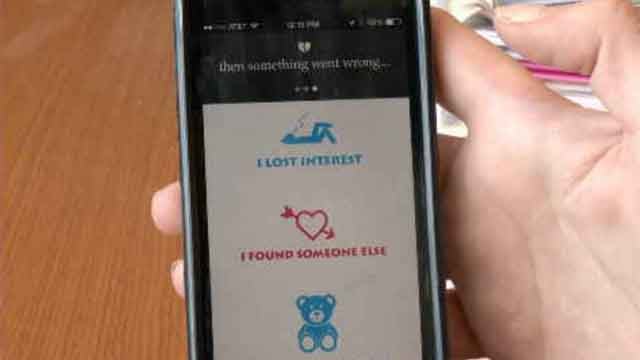 New app helps people end relationships (WFSB)
HARTFORD, CT (WFSB) -
They say breaking up is hard to do, but technology could make it a little easier.
There's a phone app for everything, it seems, and now there's one called BreakupText, helping people end their relationship through a text message.
The user pulls up the phone number for the person they want to break up with, choose the gender of the soon-to-be ex, decide how serious things were, and then choose from some funny, but brutal responses.
Some of the responses include saying "I got eaten by a bear," or "I've had a crush from work for a long time...remember all those questions about those tweets...ha!"
The user picks a message that works for them, hits 'send' and then the deed is done.
The app is available on both Apple and Android phones.
Copyright 2015 WFSB (Meredith Corporation). All rights reserved.