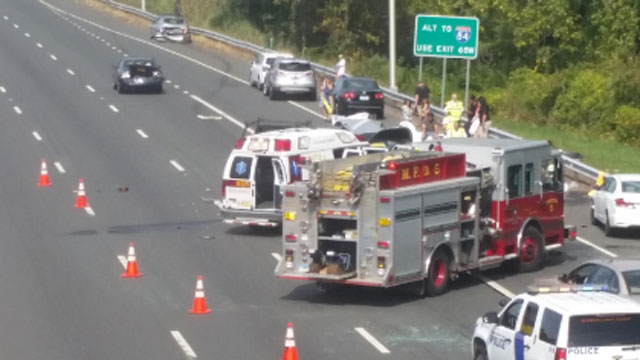 Closer look at the crash on Route 15 in Meriden. (iWitness)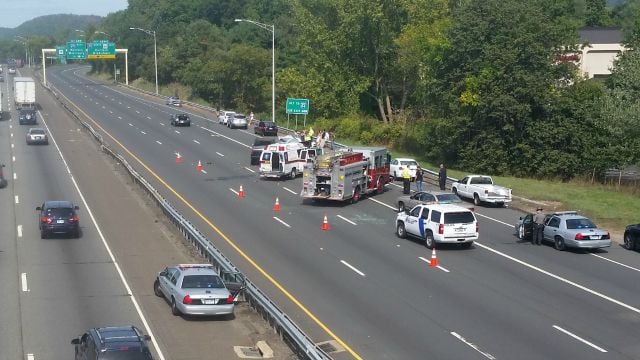 A multiple-vehicle crash closed the northbound side of Route 15 in Meriden. (iWitness viewer)
MERIDEN, CT (WFSB) -
A multiple-vehicle crash that closed the northbound side of Route 15 in Meriden on Friday afternoon has left four people, including an infant injured.
The crash involving four vehicles was reported near exit 68N just prior to the Interstate 91 interchange around 1:30 p.m.
State Police said the driver of two cars were involved in a minor crash in the right lane of Route 15. The third vehicle, operated by 39-year-old Dave Harris of Bridgeport, came to a stop just prior to that crash. Harris' Honda Accord was then hit from behind by a pickup truck being operated by Christopher Straise of Pompton Plains, N.J.
The impact of the crash sent Accord smashing into one of the vehicles involved in the prior accident and then spun the vehicle 180 degrees.
Harris along with his front seat passenger, 34-year-old Jocelyn Harris also of Bridgeport and an infant in the rear sear of the vehicle were all taken to Mid State Hospital.
Dave Harris and the infant child were then flown to by Life Star helicopter to Hartford Hospital. Their condition at this time is unknown, but police said they both suffered serious injuries.
The driver of one of the other vehicles involved in the initial crash was also taken to the hospital for evaluation.
Route 15 was closed between exits 68 N and 68W, according to the Department of Transportation, until 4:45 p.m.
Copyright 2015 WFSB (Meredith Corporation). All rights reserved.