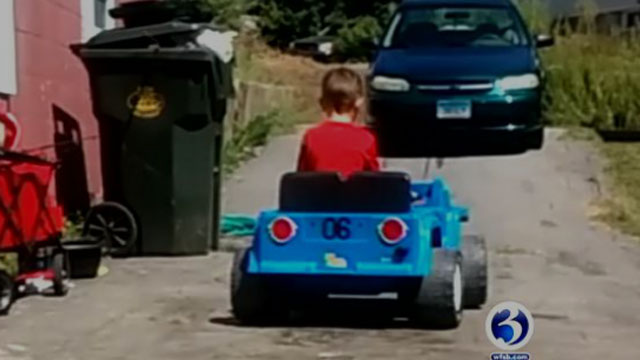 Peyton had his prized Power Wheels stolen from his home in New London. (WFSB)
NEW LONDON, CT (WFSB) -
Overwhelming support from a Connecticut community after a child's toy is stolen from his New London home.
Ashley Campbell said someone took her 5-year-old's prized Power Wheels from their residence on Maple Avenue. The toy had become little Peyton Campbell's favorite past time. Peyton has autism.

While the Peyton Campbell's Power Wheels has not been, someone bought him a brand one.
"We have not had luck finding Peyton's Power Wheels yet, but the response and support from the community is incredible," Ashley Campbell told Eyewitness News.
She said that so many people have contacted her about helping get or donating unused Power Wheels to the family.
The family said they still hope that the toy, which is worth about $450, will be returned to them.
The family has asked anyone who would like to donate their old or unused Power Wheels to the New London-Waterford Speedbowl, so that other children in the stands who don't own one are able to have a chance to race.
"The more kids who race means the more fun Peyton and the others can have," Ashley Campbell told Eyewitness News.
Anyone with information is asked to call the New London Police Department.
Copyright 2015 WFSB (Meredith Corporation). All rights reserved.