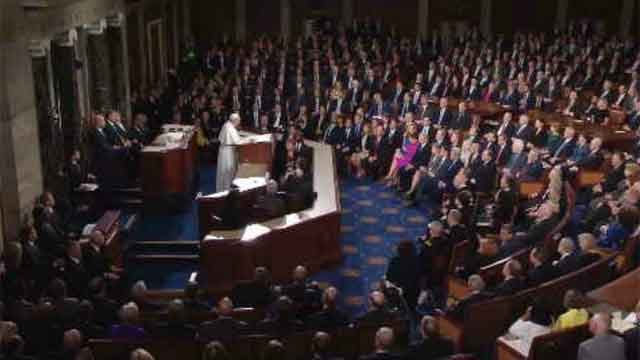 Pope Francis addresses Congress (WFSB)
WASHINGTON, D.C. (WFSB) -
Thousands from across the country gathered to hear Pope Francis on Friday in Central Park, including many from Connecticut.
Sister Peggy Evans from East Catholic High School was able to get pretty close to the Pope, and she said seeing Pope Francis was an experience she will never forget.
"He was a very gentle man. Genuine man but very strong in his beliefs," Evans said.
Evans is a guidance counselor at East Catholic High School and said seeing the Pope was a once in a lifetime experience.
She was a guest of Congressman John Larson, and prior to her visit she said she was only told she was going to see the Pope speak before Congress, but that was until she saw the agenda.
"We started out at the White House. We went to the basilica and we finished up at Congress," Evans said. "I was shocked. I was excited. It was just amazing to have that opportunity to go to D.C. to see the Pope."
Copyright 2015 WFSB (Meredith Corporation). All rights reserved.