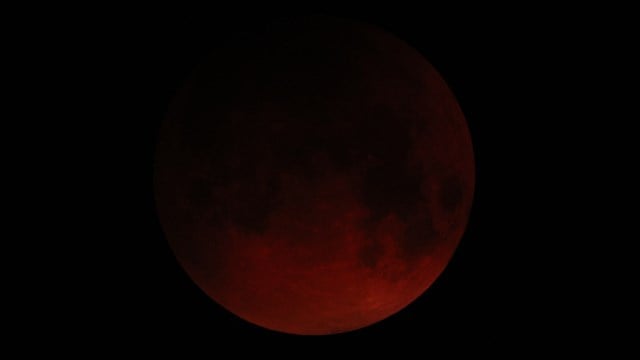 (Marc Polansky photo)
STORRS, CT (WFSB) -
A super blood moon eclipse captured the imaginations of people for the first time since 1982.
Stargazers at the University of Connecticut on Sunday night were no different.
Hundreds of students came out to see the red-shaded moon from Horse Barn Road on the Storrs campus. Many arrived around 7:30 p.m., at least an hour and a half before the eclipse started.
Eyewitness News captured time lapse video of the moon transitioning into the super blood moon.
According UConn's astrology club, the moon was fully eclipsed shortly after 10 p.m., then it appeared bigger with a reddish hue.
The club said the size happened because the moon is full and is at its closest orbit. The eclipse happened because the earth was in the middle of the sun and the moon. The red color was because of dispersed light scattering off of earth's atmosphere.
The whole phenomenon lasted until about midnight.
Astronomers said the next supermoon lunar eclipse won't happen until 2033.
Click here to see photos of last night's event as seen in Bethlehem, CT.
Copyright 2015 WFSB (Meredith Corporation). All rights reserved.