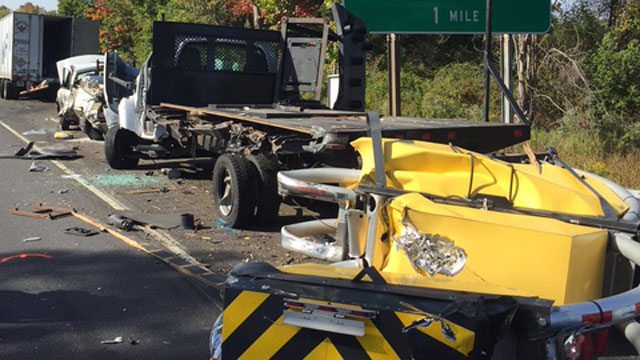 State police tweeted this photo of the cash involving a tractor-trailer on I-91 in Middletown.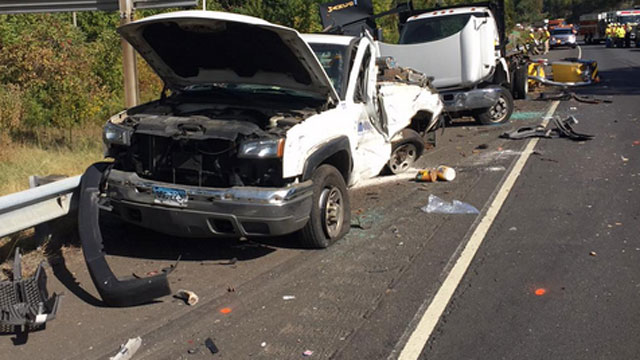 State police tweeted this photo, which shows the damage after a crash on I-91 southbound in Middletown.
MIDDLETOWN, CT (WFSB) -
Traffic was delayed hours after a crash involving a tractor-trailer on Interstate 91 in Middletown on Monday morning.
A tractor-trailer being driven by Worcester, Ma resident Leon Nelson was traveling southbound on I-91 near exit 20 around 9 a.m. when police said the vehicle "veered" into the breakdown lane. Police said the tractor-trailer crashed into three parked vehicles that were setting up signage in that area.
Hartford resident Peter Kenroy Virgo, 40, was inside the rear truck bed of one of the vehicles and struck his head against the truck after the crash, police said. Virgo was rushed to Hartford Hospital with non-life-threatening injuries, police said.
Two Mohawk Construction Company employees jumped over the guardrail after "hearing the screeching of tires of the tractor-trailer," police said. Both suffered "minor non-life-threatening injuries. They were treated and released at Hartford Hospital.
Traffic was delayed between exits 20 and 19 and the highway was even temporarily shut down.
Nelson was issued infractions for failure to drive at reasonable distance apart in a construction zone, failure to maintain proper lane in a construction zone and failure to stop on right side of the road.
The cause of the crash remains under investigation.
For real-time traffic updates, check the WFSB traffic page here.
Copyright 2015 WFSB (Meredith Corporation). All rights reserved.