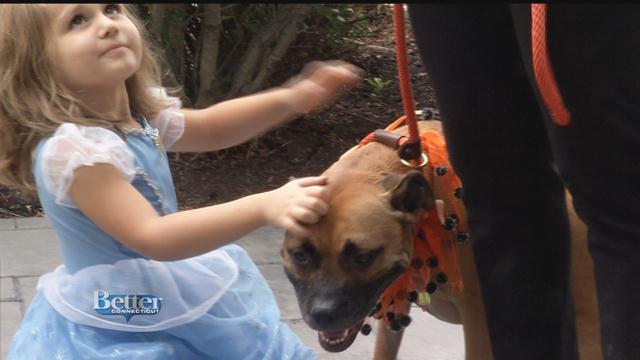 ROCKY HILL, CT (WFSB) -
Better Pets is back with the sweetest pup Gemma and her loving family. While Gemma looks happy and healthy now, her life started out very tough.
Gemma, a pit bull and boxer mix was rescued four years ago from the city of Hartford. Animal Control received a call about an abandoned dog on the porch of a multi-family home. Gemma was found with a deflated air mattress covering a large crate where no air or light was able to enter.
Puppy Gemma was laying in her own filth with no food or water. She was rushed to the vet for urgent medical care and there it was discovered that she had several injuries and was emaciated.
Emergency vets said she had a broken shoulder, bone deterioration in her right hip, arthritis and scars all over her body.
The vets suspect she may have been used as a bait dog for dog fighting because of her scars and her fear of new dogs.
After some recuperation and bowls of kibble later, Shannon Lewie, a founding member of Kenway's Cause decided to foster Gemma and brought her home.
Now Gemma is part of the family. Shannon says they officially adopted Gemma not long after fostering her because as much as they changed her life, she changed theirs as well.
To learn more about Kenway's Cause, check out their website.