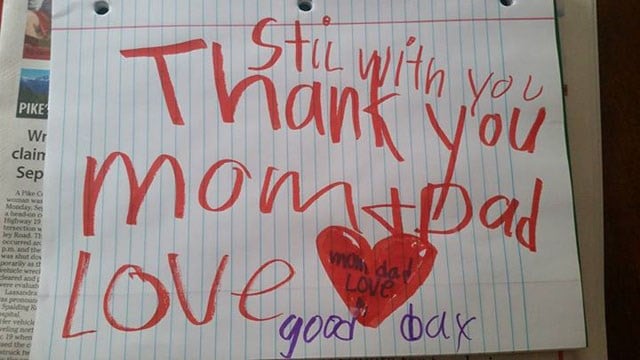 (Facebook photo)
ATLANTA, GA (WFSB) -
A mother in Georgia who lost her son to a brain infection shared a heart-wrenching note to social media on Monday.
Amber Shoemake said 6-year-old Leland wrote the letter before passing away last week.
"When Tim and I came home for the first time to get him clothes to be buried in, this is the note we found from him on the table in the living room," Shoemake wrote. "We have no idea when he wrote it but you can tell he was always a special child."
The letter was simple, but had a profound message.
"Still with you," Leland wrote in magic marker. "Thank you mom + dad."
Shoemake posted a loving message to her Facebook page "Prayers for Leland."
"I was over protective of Leland and tried my best to keep him safe," she wrote. "The one thing he loved most was playing in the dirt. I never imagined that would be the thing that would take him from me."
She said Leland was her world. He's what made her a mother.
"We will love you forever Leland," Shoemake said. "Sleep tight and don't let the bed bugs bite!"
Copyright 2015 WFSB (Meredith Corporation). All rights reserved.