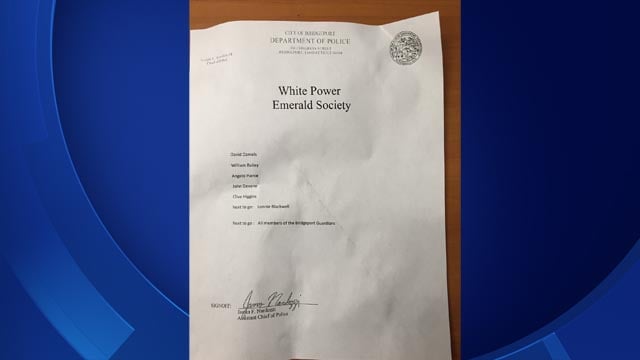 Bridgeport police receive racially-charged letters (Bridgeport Police)
BRIDGEPORT, CT (WFSB) -
Early Friday morning, a Bridgeport police officer found a letter placed on the windshield of his personal vehicle that targets current and former police officers because of their race.
After searching the parking lot on Congress Street, there were eight other vehicles, including police vehicles, with letters on them.
This comes after officials said an investigation was launched earlier this week into recently received racially-charged letters.
"Upon receiving this letter, I immediately directed the Office of Internal Affairs to begin an investigation," said Police Chief Joe Gaudett. "The city and the Police Department have a zero-tolerance policy when it comes to discrimination of any kind, especially that of a racial nature. We will investigate the letter's authenticity, motive and every part of the development and distribution of it."
The letter uses letterhead from the police chief and alleges to be signed by Assistant Chief James Nardozzi.
"I am disgusted that someone would make such a hateful statement and falsify my signature to the document," said Assistant Chief James Nardozzi in a press release. "I did not write or sign this letter nor have I made any statements that even remotely reflect the sentiments of this letter. The allegations are ludicrous and sickening."
The Office of Internal Affairs launched an investigation earlier this week and the State's Attorney has also been notified.
Copyright 2015 WFSB (Meredith Corporation). All rights reserved.