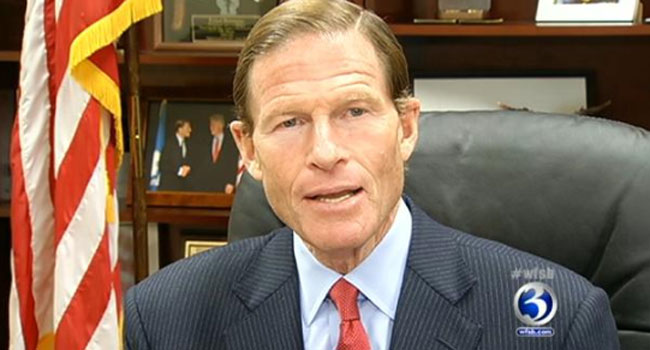 Sen. Richard Blumenthal (WFSB)
HARTFORD, CT (WFSB) -
A Connecticut lawmaker, along with Syrian families, refugees and advocates, plans to unveil a plan to cut through red tape when it comes to refugee processing.
Sen. Richard Blumenthal said his four-point plan urges specific reforms that would eliminate wasteful and duplicative processes. It would also drive down costs and immediately expedite processing without compromising security.
"While I welcome the Administration's commitment to accept additional refugees from Syrian and elsewhere next fiscal year, simply increasing that cap will be insufficient if we fail to expand capacity to screen and effectively resettle refugees within our borders," Blumenthal said.
The plan would cut down on processing delays, something he said could be life-saving.
"Ultimately, a comprehensive effort by the international community will be necessary to effectively address the refugee crisis in Syria," Blumenthal said. "Steps should be taken immediately to expedite effective screening and resettlement."
More than 4 million Syrians have fled their civil war engulfed country over the last five years, according to the Associated Press.
Blumenthal's news conference is set for 10 a.m. at the Franciscan Center on Church Street in Hartford.
Copyright 2015 WFSB (Meredith Corporation). All rights reserved.