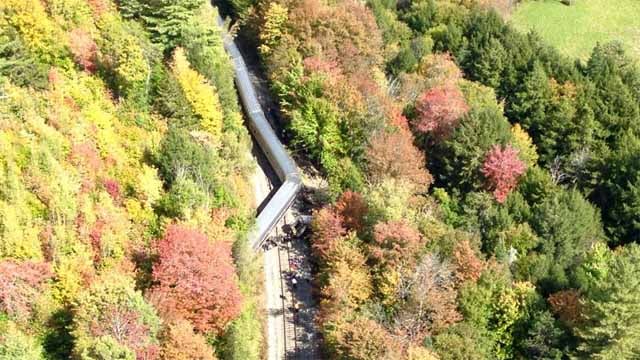 Amtrak derailment in Vermont (WCAX-TV)
MONTPELIER, VT (AP) -
Amtrak says modified passenger service on the Vermonter route will resume following the train derailment in Northfield.
The company says the northbound service between Washington, D.C., and St. Albans will operate normally on Thursday.
Passengers traveling south will be transported by bus to Springfield, Massachusetts, or New Haven, Connecticut, where they will board other trains.
A passenger train headed from Vermont to Washington derailed Monday when it hit rocks that had fallen onto the track from a ledge.
Seven people were injured. Amtrak says everyone who was injured was released from the hospital the following day.
This story has been corrected to show bus service will be offered to Springfield, Massachusetts, not Springfield, Vermont.
Copyright 2015 The Associated Press. All rights reserved. This material may not be published, broadcast, rewritten or redistributed.