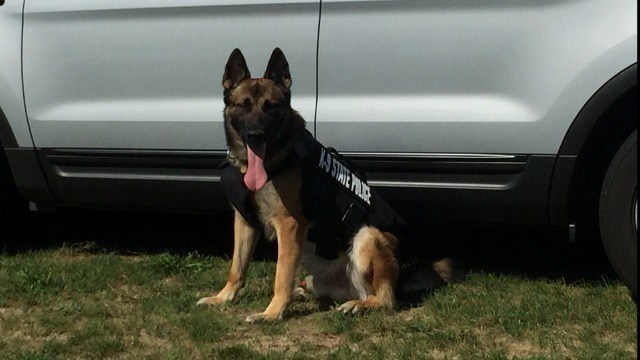 K9 Nero receives a bullet and stab protective vest. (Connecticut State Police)
MIDDLETOWN, CT (WFSB) -
A K9 for the Connecticut State Police is sporting a new vest after a donation from a nonprofit.
Vested Interest in K9s, Inc., which has been helping law enforcement agencies in the United States since 2009, donated a bullet and stab protective vest to K9 Nero.
K9 Nero, whose handler is Trooper First Class Michael Beauton, is trained as a patrol dog and training in narcotics detection.
Vested Interest in K9s, Inc. is able to provide vests to law enforcement agencies for $1,050. The nonprofit takes donations for each vest and they can be mailed to P.O. Box 9 East Taunton, MA. 02718.
For more information about the Vested Interest in K9s, Inc., click here or by calling them at 508-824-6978.
Copyright 2015 WFSB (Meredith Corporation). All rights reserved.