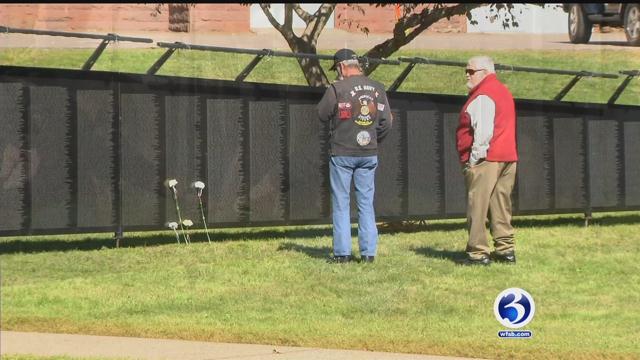 The Wall that Heals honors veterans of the Vietnam War. (WFSB)
MANCHESTER, CT (WFSB) -
People in Manchester came together on Thursday to honor the lives of local veterans who gave their lives in the Vietnam War.
The Wall that Heals is a traveling monument that is a replica of the Vietnam veterans' Memorial in Washington DC.
It is designed to bring those who gave their lives, closer to their family and friends.
An opening ceremony was held at Center Memorial Park on Thursday afternoon to 2.7 million men and women who served in the United States Military during the Vietnam War.
Rob Simmons was one of the guest speakers. Simmons is decorated Vietnam veteran, who has more than 37 years of active and reserve service.
For anyone interested in visiting The Wall that Heals, it will be in Center Memorial Park through Sunday.
Copyright 2015 WFSB (Meredith Corporation). All rights reserved.