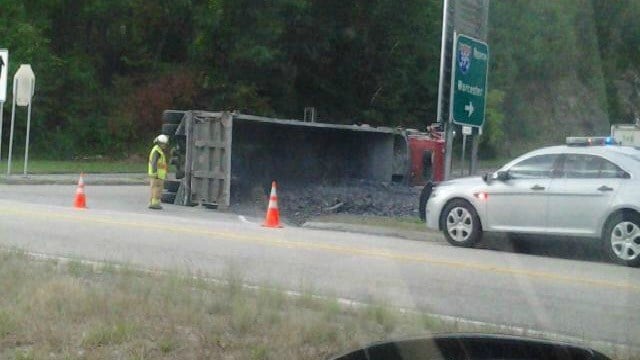 A rolled over garage truck has caused police to close the off ramp for I-395 in Norwich.
NORWICH, CT (WFSB) -
An off ramp on the northbound side of Interstate 395 in Norwich was closed for a few hours because of an overturned garage truck.
When the Tri axle trailer rolled near exit 83, police said it spilled more than two tons of ash. First responders spent Friday morning containing the ash, which was going to a land fill in Willimantic from the Waste-to-Energy Plant in Lisbon.
The driver did not report any serious injuries to police.
The members of the Connecticut Department of Energy & Environmental Protection helped manage the small spill of diesel fuel from the truck.
The cause of the crash is under investigation.
The exit 83 off ramp was closed after a cash around 10 a.m. The Department of Transportation reported the off ramp reopened around 1:15 p.m.
To check traffic in your area, click here.
Copyright 2015 WFSB (Meredith Corporation). All rights reserved.