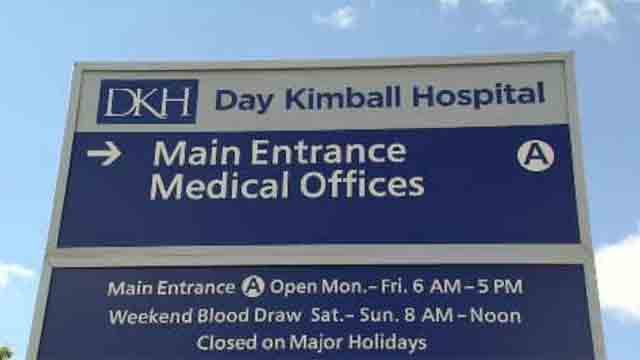 Day Kimball is one of the six hospitals will receive the extra payments. (WFSB)
HARTFORD, CT (WFSB/AP) -
Gov. Dannel P. Malloy's budget office says it's redistributing $14.1 million to help smaller, financially strapped hospitals in Connecticut.
The Office of Policy and Management announced Friday that six hospitals will receive the extra payments. They include Bristol, Charlotte Hungerford, Day Kimball, Johnson and Milford hospitals.
"We are very pleased and thankful to the Governor for recognizing the critical importance of restoring these funds to small community hospitals. We are also thankful to our local legislators for their efforts in working with the Governor on behalf of the health and wellness of the communities we serve," Day Kimball Hospital President and CEO Robert Smanik said in a statement on Friday.
The funding is from the first-quarter Medicaid reimbursement payments the state had not yet released to the state's 28 hospitals. It's unclear whether the larger hospitals will receive money for Medicaid expenses they've already incurred.
OPM says the Malloy administration believes large hospitals have "heavy margins and robust executive compensation" while the smaller ones need additional help.
An OPM spokesman said Malloy's mid-year $63.4 million cut in future hospital payments still stands.
Copyright 2015 The Associated Press. WFSB (Meredith Corporation) contributed to this report. All rights reserved. This material may not be published, broadcast, rewritten or redistributed.