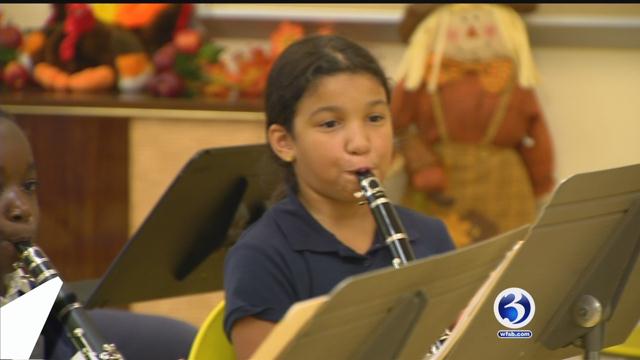 Students at the Chamberlain and Vance elementary schools play their new instruments. (WFSB)
NEW BRITAIN, CT (WFSB) -
Elementary school students in New Britain got a chance to show off their brand new instruments on Friday.
Students at the Chamberlain and Vance elementary schools were given a $70,000 grant from VH1 Save the Music foundation for new instruments.
On Friday, they held a performance to demonstrate what they've learned so far.
"Students that study music, do better on standardized testing," said Jaclyn Rudderow with the VH1 Save the Music foundation "They have more self-confidence. They are hard-working. Their graduation rates go up, so really, music really does great things for kids when they have the opportunity."
VH1 Save the Music foundation has helped save music programs in schools all across the country.
For more information about how you can donate or get involved, click here.
Copyright 2015 WFSB (Meredith Corporation). All rights reserved.