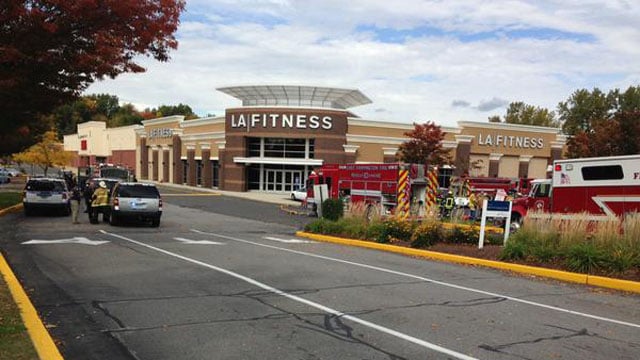 LA Fitness near the Farmington/New Britain line was evacuated on Wednesday. (WFSB)
FARMINGTON, CT (WFSB) -
Dozens of people were evacuated from a popular gym near the Farmington/New Britain line due to a hazmat situation at its pool on Wednesday morning.
Police said it happened at the LA Fitness, which is located near the Westfarms mall, around 11 a.m.
The building was evacuated after gym-goers reported a haze in or around the pool water. About 50 people were inside the LA Fitness before the evacuation.
"There was definitely an urgency. I didn't even know what was going on," eyewitness Tom DeSimone said. "I had my headphones in and he pretty much ran over to us and told us we needed to evacuate the building immediately."
Authorities said the chemical mixture was not hazardous, but haze was thick enough to trigger fire alarm. No word on what the chemical mixture is.
One person was treated on the scene, but no one was sent to the hospital, police said.
Thousands pass through the Westfarms area and officials shut down access to a nearby parking lot, which delayed traffic in that area.
Fire departments were called to assist with the incident.
People were allowed back inside the LA Fitness around noon.
Copyright 2015 WFSB (Meredith Corporation). All rights reserved.