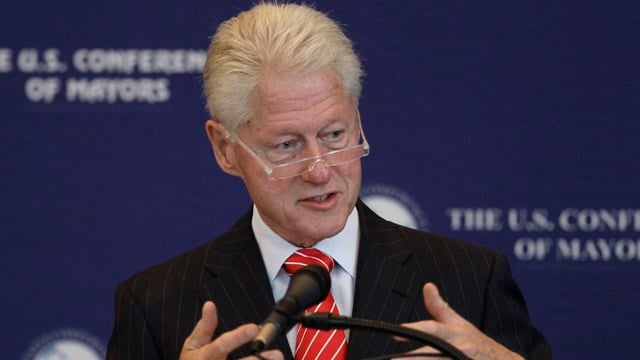 Former President Bill Clinton is scheduled to visit the University of Connecticut campus. (AP photo)
STORRS, CT (WFSB/AP) -
Former President Bill Clinton visited the University of Connecticut campus on Thursday to be honored for his efforts to advanced human rights.
Clinton was joined by an international human rights group in Senegal to receive the Thomas J. Dodd prize in international justice and human rights.
"It has been his keen understanding and empathy that has driven him with determination to help here and abroad," said former Senator Chris Dodd.
The event also marked the 20th anniversary of the Thomas J. Dodd Research Center, named after the former U.S. senator and lead prosecutor at the Nuremberg trials. The center awards a prize every other year to a leader or group that has advanced the cause of human rights.
"Our future in America depends on our ability to develop an inclusive economy, inclusive society and inclusive politics," Clinton said.
Dodd said Clinton's own foundation has given millions of people access to life-saving medicine, dramatically improving healthcare and education.
Clinton was scheduled to headline a presidential campaign fundraiser for his wife on Wednesday at the home of Connecticut Attorney General George Jepsen in West Hartford.
Copyright 2015 WFSB (Meredith Corporation). Copyright 2015 The Associated Press. All rights reserved