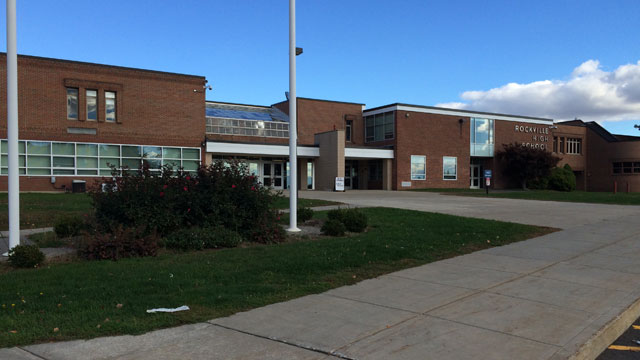 Officials briefly placed Rockville High School into lockdown on Friday. (WFSB)
ROCKVILLE, CT (WFSB) -
A report about a student with a knife briefly placed a high school in Vernon into lockdown Friday afternoon.
Police said they were advised that a student had the knife inside a Rockville High School classroom around 1:35 p.m.
The lockdown was quickly reduced to the closure of the closest hallway after about 10 minutes.
After additional officers arrived 30 minutes later, the school resource officer was able to speak with the 16-year-old student and convince him to peacefully turn over the knife.
Police said the knife was a pocket knife with a 2 inch blade.
The student had some superficial self-inflicted cuts on his arms, according to police.
No one else was hurt.
The student was transported to a local hospital by an ambulance for a psychiatric evaluation.
Police said the case remains under investigation and no charges were filed as of Friday afternoon.
Copyright 2015 WFSB (Meredith Corporation). All rights reserved.