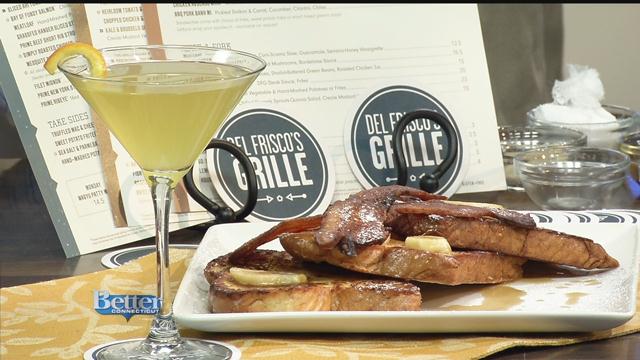 Time now for Better Food and we have a sweet treat for this Thursday. We have Chef Enrique in the kitchen for Del Frisco's Grille in Stamford.
Bananas Fosters French Toast:
French Toast Batter
6 Whole Eggs
1/8th Granulated Sugar
1tbsp Vanilla Extract
1½ Tbsp Sugar, granulated
½ .5 Qt Half & Half
Method:
In a mixing bowl add all ingredients and mix well
Take Challah Bread and dip into the French toast batter.
Place 2 Tbsp of butter in a large sauté pan on low to med heat
Brown French toast in the sauté pan turning French toast over to ensure that it does not get to dark.
Place French Toast on a plate and keep in a warm area on stove top.
Banana Rum Sauce
¼ lb Brown Sugar
2 Tbsp Unsalted Butter
1 Tbsp Vanilla Extract
¼ cup Bacardi 151
¼ cup Banana Liquor
1 ea banana sliced (retain for Later use)
Method:
Melt Butter in a Medium sauce pot
Whisk in orange juice add vanilla
Add the Rum to the Pan and cook out Alcohol 1-2 min.
Add the banana Liquor to the sauce pot and allow to cook for 2 min
Transfer Rum Sauce to a heat safe container and retain for later use